Product Description
If you missed our Black River release party with Josh Simmons on Saturday, May 30th it's not too late to get a signed copy! Josh was nice enough to sign a limited number of copies of Black River! In fact he drew a small face on the inside front cover as well (see picture below for an example).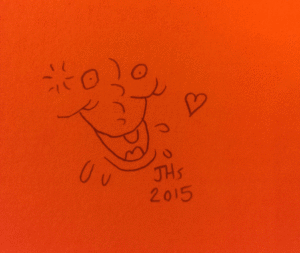 Describing Black River:
Josh Simmons (The Furry Trap, House) returns with a full-length graphic novel about a bedraggled group making their way through a post-apocalyptic world in search of some sort of civilization. Along the way, they encounter fools, lunatics, murderous sadists and also visit a comedy club. All manner of terrors, in other words. Simmons is one of the most distinctive voices in the horror genre and Black River, with its perfect pacing, is his best work yet.
Don't miss your chance to get a one of a kind copy of this amazing book.