Meet Eisner Award-winning writer Ed Brubaker at Crescent City Comics!
Come to our Calhoun St. location on Thursday, October 25th to get your copy of Ed Brubaker's new original graphic novel signed! My Heroes Have Always Been Junkies, another jam with artist Sean Phillips, is available October 10th.
Brubaker's bibliography includes notable runs on Catwoman, Daredevil, Uncanny X-Men and Captain America (where he recreated Bucky Barnes as the Winter Soldier with artist Steve Epting). His recent creator-owned work is collected over multiple recommended and shop-favorite volumes of Criminal, Incognito, Fatale, the Fade Out and Kill or Be Killed.
When: Thursday, October 25th / 6pm-9pm
Where: 3135 Calhoun St., NOLA 7015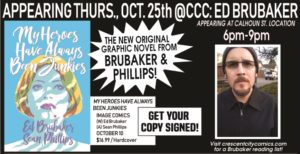 Looking to brush up on your Brubaker reading? Here's a short, recommended reading list, all available at CCC:
KILL OR BE KILLED
IMAGE COMICS
(W) Ed Brubaker (A/CA) Sean Phillips
The darkly twisted story of a young man forced to kill bad people, and how he struggles to keep his secret as it slowly begins to ruin his life and the lives of his friends and loved ones. Both a thriller and a deconstruction of vigilantism, Kill or Be Killed is unlike anything this award-winning team has done before.
CRIMINAL
(W) Ed Brubaker (A/CA) Sean Phillips
"Coward" (the Eisner Award-winning first volume) is the story of Leo, a man who can plan and execute almost any heist, but only if he's convinced the plan is safe enough. But sometimes the reward is worth the risk, and when a woman from Leo's past comes to him with a sure-fire score to nab a few million worth of diamonds from Police Evidence, all his rules and cautions go right out the window. But in the world Leo lives in, as he may soon learn, those rules may be the only thing keeping him alive.
Later volumes create an intensely expansive world, introducing characters from multiple generations with varying degrees of intersection. The series won another Eisner, for Best Limited Series, with 2011's "The Last of the Innocent."
CAPTAIN AMERICA WINTER SOLDIER ULTIMATE COLLECTION TP
MARVEL COMICS
(W) Ed Brubaker (A) Steve Epting & Various (CA) Steve Epting
A midnight call to duty brings Captain America aboard the S.H.I.E.L.D Heli-carrier to identify the corpse of his most feared adversary: the Red Skull! The shocking murder of Cap's oldest enemy may not be the end of the Skull's plans, however, because whoever shot the Skull has stolen his final project: an unfinished
Cosmic Cube with the potential power to alter reality itself. Adding to the imminent danger, a cadre of the Skull's followers has already set in motion a plan to ignite bombs in the hearts of Paris, London and Manhattan – causing untold death and destruction. Racing against these bombs' rapidly ticking clocks, the Star-Spangled Avenger must not only solve the mystery of his nemesis' murder, but find the Cube before it can be used in the Red Skull's malevolent plot against the United States! Then, the questions plaguing
Captain America's dreams and memories have been answered in the most brutal way possible. And in the wake of this brutality, General Lukin makes his first all-out assault – tearing open old wounds and threatening to make new scars that will never heal!
VELVET
IMAGE COMICS
(W) Ed Brubaker (A) Steve Epting, Elizabeth Breitweiser (CA) Steve Epting
From the creators of Captain America: The Winter Soldier comes Velvet, a slick and sexy new take on the Cold War spy genre. What if the secretary to the man running the world's most top secret spy agency was actually their most dangerous weapon, once upon a time? Velvet is groundbreaking work from one of the best-selling teams in comics. A must-have for any BRUBAKER & EPTING fan.
DAREDEVIL BY BRUBAKER AND LARK
MARVEL COMICS
(W) Ed Brubaker (A) Michael Lark, Various (CA) Marko Djurdjevic
Longtime fans will not be disappointed as the critically acclaimed award-winning creative team of Ed Brubaker and Michael Lark leave their mark on one of comics' most enduring legends! For the past few years, Matt Murdock's life has been teetering on the edge of destruction. Now, pushed beyond the limit, he finds himself behind the eight ball with no clear way out, the people he calls friends slowly deserting him, and Hell's Kitchen gradually slipping out of control. The question is, when his back is against the wall, how far will Daredevil go to get back what's his? And if you think Matt's life is going to start getting simpler after that, think again! As he tries to find a way to move forward, a threat from his past begins to creep toward daylight.
THE FADE OUT
IMAGE COMICS
(W) Ed Brubaker (A/CA) Sean Phillips
The Fade Out is an epic noir set in the world of noir itself, the backlots and bars of Hollywood at the end of its Golden Era.
A movie stuck in endless reshoots, a writer damaged from the war and lost in the bottle, a dead movie star and the lookalike hired to replace her. Nothing is what it seems in the place where only lies are true.
FATALE
IMAGE COMICS
(W) Ed Brubaker (A/CA) Sean Phillips
Josephine is cursed, and in a series that darkly blends American crime noir with unnamed Lovecraftian horrors, we follow her from 1950s San Francisco, where crooked cops hide deeper evils, to mid-'70s L.A., where burnt-out actors and ex-cult groupies are caught in a web around a satanic snuff film…and in the middle of it all is Josephine, with a power to die or kill for.
BATMAN BY ED BRUBAKER TP VOL 01
DC COMICS
(W) Ed Brubaker (A) Scott McDaniel & Various (CA) Scott McDaniel
Ed Brubaker's legendary run on Batman is collected, starting with stories from BATMAN #582-586, 591-594 and BATMAN: OUR WORLDS AT WAR #1, in which the Dark Knight faces The Penguin, Deadshot and more!